Parliamentary Standing Committee On Water Resources: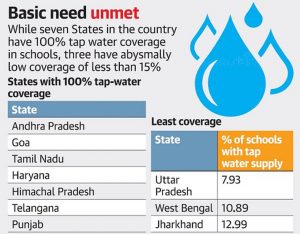 According to information provided to the Parliamentary Standing Committee on Water Resources, Only half of government schools and anganwadis have tap water supply, despite a 100-day campaign for 100% coverage being launched by the Jal Shakti Ministry in October 2020.
Less than 8% of schools in Uttar Pradesh and 11% in West Bengal have it, while it is available in only 2-6% of anganwadis in Assam, Jharkhand, Uttar Pradesh, Chhattisgarh and Bengal.
The campaign to provide potable piped water supply for drinking and cooking purposes and tap water for washing hands and in toilets in every school, Anganwadi and ashram shala or residential tribal school was launched on October 2, Gandhi Jayanti.
The 100-day period should have ended on January 10, 2021. However, as of February 15, only 48.5% of anganwadis and 53.3% of schools had a tap water supply, the Ministry told the Parliamentary panel.
Seven States — Andhra Pradesh, Goa, Haryana, Himachal Pradesh, Tamil Nadu, Telangana, and Punjab — achieved 100% coverage.