Rural Health Statistics 2021-2022: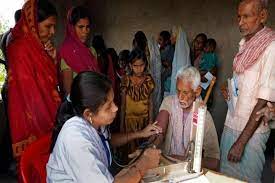 The article highlights the recent data related to rural healthcare in India and government initiatives to transform rural healthcare.
According to the Union Ministry of Health & Family Welfare's Rural Health Statistics 2021-2022, India's rural healthcare system continues to be plagued by a shortfall on two critical fronts – doctors and infrastructure.
Highlights of the Rural Health Statistics 2021-2022:
There is a shortage of 83.2% of surgeons, 74.2% of obstetricians and gynaecologists, 79.1% of physicians and 81.6% of paediatricians.
Less than half the PHC (45%) function on a 24×7 basis.
Of the 5,480 functioning CHCs, only 541 have all four specialists.
SC, PHC and CHC facilities are overburdened across the board, with SCs currently looking after more than 5,000 people, PHCs catering to 36,049 people and CHCs to 164,027 people.
This, coupled with a human resource shortage (like auxiliary nurse midwives – ANM), plagues access to adequate and quality healthcare.
The shortage was most pronounced in Uttar Pradesh, Gujarat, Himachal Pradesh, Odisha and Uttarakhand.
SCs, PHCs and CHCs had more staff in 2021, at the height of the deadly second wave of COVID-19, as compared to now.