Scientific Assessment Of Ozone Depletion 2022: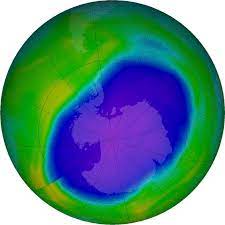 The recent United Nations report, Scientific Assessment of Ozone Depletion: 2022 said that the Earth's ozone layer is slowly recovering.
The successful phasing out of banned substances as envisioned by the Montreal Protocol has set the stage for a complete recovery of the ozone layer by the 2060s, a United Nations-backed panel of experts said at the American Meteorological Society's annual meeting on January 8, 2023.
Ozone is a gas composed of three atoms of oxygen.
It is both a natural and a man-made product that occurs in the Earth's upper atmosphere (Stratospheric ozone) and lower atmosphere (the troposphere).
Stratospheric ozone is formed naturally through the interaction of solar ultraviolet (UV) radiation with molecular oxygen (O2).
The "ozone layer," approximately 6 to 30 miles above the Earth's surface, reduces the amount of harmful UV radiation reaching the Earth's surface.