Helen Keller Day 2023: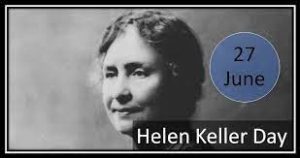 Helen Keller Day is celebrated on June 27 each year to honour the birth of Helen Keller (American author, disability rights advocate, political activist and lecturer).
Despite being deaf and blind, Helen Keller overcame her challenges and achieved great things in her life.
She became a successful writer, founded an organization for the blind, and advocated for people with disabilities.
The Department of Empowerment of Persons with Disabilities in India organized various events across the country, including awareness programs, seminars, workshops, sports activities, and quiz competitions, to observe Helen Keller Day and inspire people, especially those with disabilities.