Shenzhou-16 Spacecraft : Launched With Three Astronauts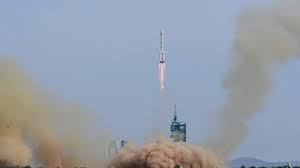 China's Shenzhou-16 spacecraft has been launched with three astronauts, including the first Chinese civilian, to the Tiangong space station.
Aim of the mission is to replace the crew of Shenzhou-15 and conduct tests and experiments over the next five months.
Tiangong Space Station is a Chinese space station being built in low Earth orbit as a part of the China Manned Space Program.
Altitude Between 340 and 450 kilometres above the Earth
Long-term operation for at least ten years
 China is the third country to send astronauts and build a space station, after US and Russia.