State Of School Feeding Worldwide Report: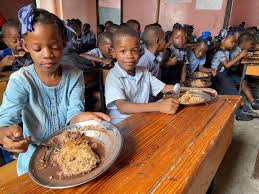 This publication by the United Nations World Food Programme (WFP) provides an analysis of the State of School Feeding Worldwide in 2020. A report on the State of School Feeding Worldwide was first published by WFP in 2013.
According to WFP's report, State of School Feeding Worldwide, 370 million children in 199 countries and territories were suddenly deprived of school meals, when schools closed due to the pandemic.
Before the coronavirus pandemic, national school feeding programmes delivered school meals to one in two schoolchildren globally – or 388 million children – more than at any time before, making them the most extensive social safety net in the world, according to the WFP report.
Studies have shown that school meals have a major impact on the lives of children, particularly those from poor families, the agency said, explaining that they stave off hunger, support long-term health and help a child learn and thrive.
For girls, these meals are even more important, as they help keep them in school longer, reduce child marriages, and decrease teen pregnancies.
When school meal programmes use locally produced food, they also boost a community's economy, creating stable demand and market, supporting local agriculture and strengthening local food systems.
The report highlighted that in the post-COVID-19 world, school feeding programmes will be even more of a priority investment, as they help countries to build a healthy and educated population while supporting national growth and promoting economic development.