Strategically Significant Highway : China: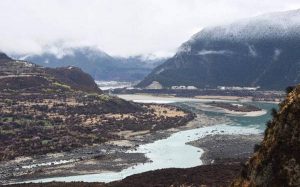 China has completed the construction of a strategically significant highway enabling greater access to remote areas along the disputed border with Arunachal Pradesh in India.
The construction began in 2014 and is part of a wider infrastructure push in border areas in Tibet.
The highway passes through the Grand Canyon of the Brahmaputra river (Yarlung Zangbo in Tibet).
The Brahmaputra is the longest river in Tibet and its valley is the world's deepest with a 7,000-metre drop from the highest mountain peak to the lowest basin.
It connects Pad Township in the city of Nyingchi and Medog County.
Nyingchi and Medog County both are located in Tibet Autonomous Region (TAR), China.
Medog is the last county in Tibet, which is located close to the Arunachal Pradesh border.
China claims Arunachal Pradesh as part of South Tibet, which is firmly rejected by India.
The India-China border dispute covers the 3,488-km-long Line of Actual Control (LAC).
The Highway will shorten the road length connecting the city proper of Nyingchi and Medog County and will reduce the travel time by eight hours.