Business 20 Inception Meeting: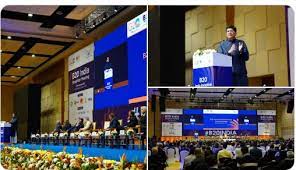 The B20 Inception Meeting was held in Gandhinagar, Gujarat on the sidelines of G20.
The meeting was attended by G20 Sherpa, business delegates, CEO, railway minister Ashwini Vaishnaw, commerce and industry minister Piyush Goyal, etc.
The meeting was headed by Mr Chandrasekaran, Head of TATA sons.
During the meeting, the bigshots formed two action groups and seven task forces.
These groups will work and discuss on digital transformation, climate change, financial inclusion, and sustainability.
For the first time, Africa will receive a special task force.
The Sherpas meet prior to the summit and prepare agendas. They report about the negotiations being made among countries and other happenings to their country head.