Supra Thermal & Energetic Particle Spectrometer: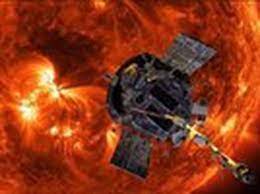 India's solar mission, Aditya L1, has started studying energetic particles in the solar wind from space with the help of a device named Supra Thermal & Energetic Particle Spectrometer (STEPS).
It is a sub-system of the ASPEX (Aditya Solar Wind Particle Experiment) payload on the spacecraft.
The key aim of STEPS is to study the environment of energetic particles from the spacecraft's position on the L1 point till it will function.
The data from STEPS in the long term will also help us understand how space weather changes.
It comprises six sensors, each observing in different directions and measuring supra-thermal and energetic ions.
The data collected during the Earth's orbit helps scientists analyse the behaviour of particles surrounding the planet, especially in the presence of its magnetic field.
It was developed by the Physical Research Laboratory (PRL) with support from the Space Application Centre (SAC) in Ahmedabad.
Aditya L1:
Aditya (which in Sanskrit means sun) is a planned coronagraphy spacecraft to study the solar atmosphere (solar corona, – outermost part).
It has been designed and developed by ISRO and various other Indian research institutes.