Sutlej Yamuna Link (SYL) Canal: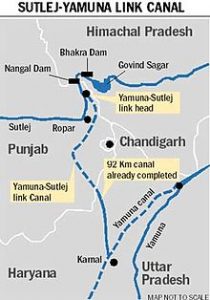 The Haryana Vidhan Sabha has passed a resolution seeking completion of the Sutlej Yamuna Link (SYL) Canal.
The canal, once completed, will enable sharing of the waters of the rivers Ravi and Beas between Haryana and Punjab.
The Satluj Yamuna Link Canal is a proposed 214-kilometre-long canal connecting Sutlej and Yamuna rivers.
Water resources are under the State List, while the Parliament has the power to make laws regarding inter-state rivers under the Union List.
Many areas in Punjab may go dry after 2029 and the state has already over-exploited its groundwater for irrigation purposes as it fills granaries of the Centre by growing wheat and paddy worth Rs 70,000 crore every year.
Water in about 79% of the state's area is over-exploited and in such a situation, the government says sharing water with any other state is impossible.
It says that providing irrigation is tough for the state and there was a problem of drinking water in southern parts of Haryana, where groundwater has depleted up to 1,700 feet.
Haryana has been citing its contribution to the central food pool and arguing that it is being denied its rightful share in the water as assessed by a tribunal.