Task Force For Mission Karmayogi: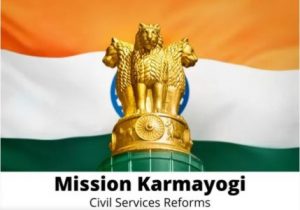 Former Infosys CEO S D Shibu Lal has been appointed chairperson of a three-member task force formed to help the government in bringing major bureaucratic reforms through its ambitious "Mission Karmayogi".
The task force has been constituted to draw a clear road map for the guidance and operationalisation of the 'Karmayogi Bharat' and the constitution of a Special Purpose Vehicle (SPV).
About Mission Karmayogi:
The 'National Programme for Civil Services Capacity Building – Mission Karmayogi' was launched to effect a transformational shift from rule based training to role-based capacity development of all civil services in the country so as to enhance citizen experience for government services and improve availability of competent workforce.
The core guiding principles of the Programme will be:
To emphasize on 'on-site learning' to complement the 'off-site' learning,
To create an ecosystem of shared training infrastructure including that of learning materials, institutions and personnel,
To calibrate all Civil Service positions to a Framework of Roles, Activities and Competencies (FRACs) approach and to create and deliver learning content relevant to the identified FRACs in every Government entity.
To make available to all civil servants, an opportunity to continuously build and strengthen their Behavioral, Functional and Domain Competencies in their self-driven and mandated learning paths.