The State Of The World's Children 2023: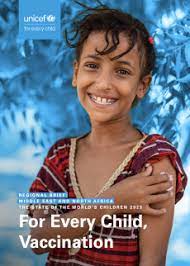 UNICEF released its global flagship report 'The State of the World's Children 2023: For Every Child, Vaccination,' highlighting the significance of childhood immunization.
Immunization, also known as vaccination, is the process of protecting an individual or a population from disease by introducing a substance that stimulates the body's immune system to recognize and fight the disease-causing agent, such as a virus or bacteria.
Findings of the report are:
The decline in vaccine confidence globally Over a third of the 55 countries studied for vaccine confidence showed a decline.
The largest decline in childhood immunization in 30 years A total of 67 million children missed out on vaccinations between 2019 and 2021.
In 2022, the number of measles cases was more than double the total in the previous year.
Existing inequities in vaccination access Unvaccinated children often live in hard-to-reach communities such as rural areas or urban slums.
There is a growing threat of vaccine hesitancy due to factors such as access to misleading information and declining trust in vaccine efficacy.
India-specific findings:
Decrease in the number of zero-dose children during the pandemic Between 2020 and 2021, the number of zero-dose children in India decreased from 3 million to 2.7 million.
However, India was among the top 20 countries with the largest numbers of zero-dose children
Improvement in the 'Importance Given to Vaccines' 98% of the population in India currently perceive vaccines as important for children