Daily Current Affairs for Government Exams:
Today Current Affairs: 28th August 2020 for UPSC IAS exams, State PSC exams, SSC CGL, State SSC, RRB, Railways, Banking Exam & IBPS, etc
Contents:
Sub-Classification of Reserved Classes:
41st Goods and Services Tax (GST) council meeting:
UDAN 4.0:
"Wolbachia method"
GM or transgenic crop:
Other important current affairs
1.Sub-Classification of Reserved Classes: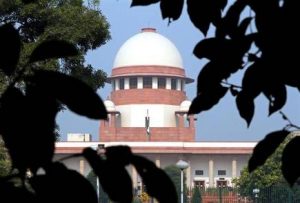 A five-judge Bench of the Supreme Court held that States can sub-classify the list of Scheduled Castes (SCs), Scheduled Tribes (STs), and Socially and Educationally Backward Classes (SEBCs) to provide preferential treatment to the "weakest out of the weak".
The decision overruled a previous 2005 decision in E V Chinnaiah v State of Andhra Pradesh and Others, also by a five-judge Bench, that state governments had no power to create sub-categories of SCs for the purpose of reservation.
Since a Bench of equal strength cannot overrule a previous decision, the court also referred it to a 7-judge Bench.
The judgment was on the constitutional validity of Section 4(5) of the Punjab Scheduled Caste and Backward Classes (Reservation in Services) Act, 2006.
The act allows 50% of the reserved Scheduled Castes seats in the State to be allotted to Balmikis and Mazhabi Sikhs.
Judgment:
The reservation system has created inequalities within the reserved castes itself. There is a "caste struggle" within the reserved class as benefits of reservation are being usurped by a few.
The reservation was not contemplated all the time by the framers of the Constitution.
Article 334 of the Constitution had originally required the reservation of elected seats to cease in 1960, but it was extended by various amendments. The latest one being the 104th Amendment extending it to 2030.
If sub-classification is denied, it would defeat the right to equality by treating unequal as equal.
Article 14 guarantees everyone "equality before the law" and "equal protection of the law". Equal protection of the laws means that amongst equals the law should be equal and treating unequal as equals will be a violation of the law.
Among the SCs, there are some that remain grossly under-represented despite reservation in comparison to other SCs.
This inequality within the Scheduled Castes is underlined in several reports, and special quotas have been framed to address it.
Justice Ramachandra Raju Commission, 1997 recommended sub-dividing the SCs into four groups and apportioning reservations separately for each. It also recommended that the Creamy layer of Scheduled Castes be excluded from receiving any reservation benefits in public appointments and admission to educational institutions.
In Andhra Pradesh, Punjab, Tamil Nadu, and Bihar, special quotas were introduced for the most vulnerable Dalits.
In 2007, Bihar set up the Mahadalit Commission to identify the castes within SCs that were left behind. In Tamil Nadu, a 3% quota within the SC quota is accorded to the Arundhatiyar caste.
States have the competence to grant reservation benefits to SCs and STs in terms of Articles 15(4) and 16(4), and Articles 341(1) and 342(1).
Article 16 (4) provides that the State can make any provision for the reservation of appointments or posts and in matters of promotion in favor of any backward class of citizens who, in the opinion of the state, are not adequately represented in the services under the State.
Article 15(4) empowers the state to create special arrangements for promoting the interests and welfare of socially and educationally backward classes of the society such as SC and STs.
As per the Articles 341(1) and 342(1), the President of India, after consultation with the Governor, may specify, the castes, races, tribes, or parts of groups within castes or races, which shall be deemed to be Scheduled Castes and Scheduled Tribes.
2.41st Goods and Services Tax (GST) council meeting: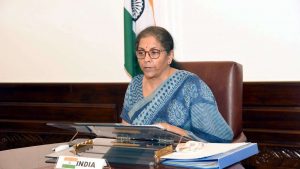 Recently, the 41st Goods and Services Tax (GST) council meeting was held to discuss the issue of compensating states on account of revenue loss due to the implementation of GST and fall in cess collections.
Points:
The shortfall in GST and Cess Collection:

The economic slowdown had reduced both GST and cess collections in FY 2019-20, resulting in a 40% gap (shortfall) between the compensation paid and cess collected.
The central government paid over Rs.1.65 lakh crore in 2019-20 as GST compensation by utilising the excess cess amount collected during 2017-18 and 2018-19.
The state's GST revenue gap in 2020-21 is expected to be about Rs. 3 lakh crore, while cess collections are only projected to reach Rs. 65,000 crore, leaving a shortfall of Rs. 2.35 lakh crore.

The distinction in Shortfall:

Only Rs. 97,000 crore out of Rs. 2.35 lakh crore of the shortfall is due to GST implementation itself, while the rest is due to the impact of Covid-19.
The Centre distinguished the GST shortfall into two types:

Due to GST implementation itself.
Caused by the impact of Covid-19.

The Finance Minister termed the fall of GST revenue due to Covid-19 as an act of God. However, the GST Compensation Act, 2017 did not foresee an act of God.
The GST Compensation Act, 2017 guaranteed states that they would be compensated for any loss of revenue in the first five years of GST implementation, until 2022, using a cess levied on sin and luxury goods.
Sin goods are goods which are considered harmful to society and individuals.

Offers Made by the Centre:

It offered two options for borrowing by states to meet the shortfall:
A special window could be provided, in consultation with the Reserve Bank of India (RBI), so that the states can get Rs. 97,000 crore at a reasonable rate of interest, the amount can be repaid after five years (of GST implementation) ending 2022 from cess collection.
Another option is that this entire gap of Rs. 2.35 lakh crore can be met by the borrowing by the states in consultation with RBI.
The states have been given seven days to decide which option they want.
Also, states choosing the first option would get 0.5% relaxation in states' borrowing limits under the Fiscal Responsibility and Budget Management Act, 2003.
The borrowing plan is valid for FY 2020-21 only and the GST Council would review the revenue position next fiscal to decide on payments for 2021-22.
GST Council
It is a constitutional body (Article 279A) for making recommendations to the Union and State Government on issues related to Goods and Services Tax.
The GST Council is chaired by the Union Finance Minister and other members are the Union State Minister of Revenue or Finance and Ministers in-charge of Finance or Taxation of all the States.
It is considered as a federal body where both the center and the states get due representation.
3.UDAN 4.0: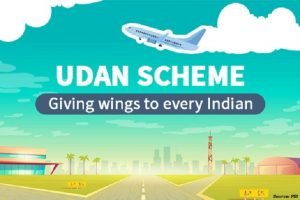 The Civil Aviation Ministry has approved 78 new routes under the 4th round of Regional Connectivity Scheme UDAN.
So far, 766 routes have been sanctioned under the UDAN scheme.
UDAN, which stands for 'Ude Desh Ka Aam Nagrik', aims to make air travel affordable and widespread.
The Ministry of Civil Aviation had launched Regional Connectivity Scheme (RCS) in October 10 2016 to stimulate regional air connectivity and making air travel affordable to the masses.
The scheme will be jointly funded by the central government and state governments.
The scheme will run for 10 years and can be extended thereafter.
The scheme entails making the routes financially viable, without insisting on the financial viability of the regional airports, by lowering the cost of flight operations and through financial support in the form of Viability Gap Funding (VGF). VGF will be available to flight operators on specific routes for the first 3 years of operation.
UDAN 4.0:
The 4th round of UDAN was launched in December 2019 with a special focus on North-Eastern Regions, Hilly States, and Islands.
The airports that had already been developed by the orts Authority of India (AAI) are given higher priority for the award of VGF (Viability Gap Funding) under the Scheme.
Under UDAN 4, the operation of helicopter and seaplanes is also been incorporated.
4.The Wolbachia method":

A recent study suggests that the "Wolbachia method" could be used to significantly reduce the incidence of dengue fever, a mosquito-borne disease, in populations where the illness is endemic.
Scientists from the World Mosquito Program (WMP) of Monash University in Australia and Universitas Gadjah Mada in Indonesia tested this method in a 27-month trial in Yogyakarta, Indonesia.
They found that using the Wolbachia method reduced the occurrence of dengue in the treated population by 77%.
This method involves introducing Wolbachia, a type of bacteria, into populations of Aedes aegypti, the mosquito species responsible for spreading dengue.
When the Wolbachia-infected mosquitoes breed with their wild counterparts, the percentage of mosquitoes carrying the bacterium grows.
It is not fully understood why the Wolbachia bacterium interferes with the transmission of dengue.
One theory is that the bacterium prevents dengue viruses from replicating in mosquito cells.
Dengue:
Dengue is a viral disease that is endemic in many countries, including India.
Although it usually results in mild illness, severe dengue infections can sometimes prove fatal.
World Health Organization (WHO) estimates suggest an annual incidence of 100-400 million dengue infections every year, with its global incidence growing dramatically "in recent decades"
5. GM or transgenic crop: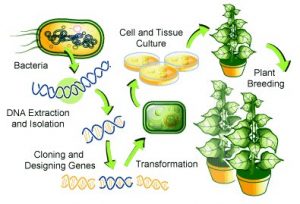 A recent move of the Genetic Engineering Appraisal Committee (GEAC) giving its greenlight for biosafety research-level-II (BRL-II) field trials for Event 142, a new variety of genetically modified brinjal (Bt brinjal).
This new variety of genetically modified brinjal was quietly given approval without any data in the public domain. This variety got approved even before the second season BRL-II and the biosafety report was out.
This paved the way for crop developers and applicants to seek permission for commercial cultivation.
There was no transparency in the manner when it came to reports regarding the biosafety of this variety of brinjal
GM crop:
A GM or transgenic crop is a plant that has a novel combination of genetic material obtained through the use of modern biotechnology.
For example, a GM crop can contain a gene(s) that has been artificially inserted instead of the plant acquiring it through pollination.
The resulting plant is said to be "genetically modified" although, n reality, all crops have been "genetically modified" from their original wild state by domestication, selection, and controlled breeding over long periods of time.
In India, the Genetic Engineering Appraisal Committee (GEAC) is the apex body that allows for the ercial release of GM crops.
The use of the unapproved GM variant can attract a jail term of 5 years and fine of Rs 1 lakh under the Environmental Protection Act ,1986.
Farmers rooting for GM crop: Cost of weeding goes down considerably if farmers grow Ht Bt cotton and use glyphosate against weeds. In the of Bt brinjal, the cost reduces as the cost of production is reduced by cutting down on the use of pesticides.
Environmentalists argue that the long-lasting effect of GM crops is yet to be studied and thus they should not be released commercially. Genetic modification, they say, brings about changes that can be harmful to humans in the long run.
Other important current affairs:
1.World Urdu Conference was recently organised by National Council for Promotion of Urdu Language (NCPUL) in New Delhi.
NCPUL is an autonomous body under the Ministry of Human Resource Development (HRD) (The Ministry was renamed as Ministry of Education), Department of Secondary and Higher Education, Government of India.
It was setup in 1996 as the National Nodal Agency for the promotion of the Urdu language.
2.Five members of the Great Andamanese tribe have tested positive for COVID-19.It is a Particularly Vulnerable Tribal Group (PVTG).
They are one of five PVTGs that reside in Andamans archipelago.
They speak Jeru dialect among themselves and their number stands at 51.
The five PVTGS residing in Andamans are Great Andamanese, Jarwas, Onges, Shompens and North Sentinelese.
3.Amnesty International (AI) India has demanded an independent investigation into all allegations of human rights violations by the police during the north-east Delhi riots.
On 23rd February 2020, riots broke out in Northeast Delhi between Anti-Citizenship Amendment Act (CAA), 2019 and pro-CAA protestors. The violence took a communal turn and led to deaths, injuries and destruction of properties.
Earlier, AI put forward its views on issues in J&K and the role of Foreigners Tribunals in Assam.
Amnesty International (AI) is an international Non-Governmental Organisation (NGO) founded in London (UK) in 1961.
It seeks to publicise violations by governments and other entities of rights recognized in the Universal
Declaration of Human Rights (1948), especially freedom of speech and of conscience and the right against torture.
In 1977, it was awarded the Nobel Prize for Peace.
AI India is a part of the global human rights movement spearheaded by Amnesty International. It has its registered office in Bangalore (Karnataka).
4.Union Textiles Minister addressed the award giving ceremony for winners of the Textile Grand Challenge 2019.
The Textile Grand Challenge 2019 was organized by the Ministry of Textiles with the active support of National Jute Board and the Start up India Team of the Department for Promotion of Industry & Industrial Trade (DPIIT).
The aim of organizing this event was to bring forward innovative ideas by start-ups/entrepreneurs for development of cost effective and low-weight carry bags using Jute Bio-mass, Jute Plant based bio-polymer and cotton fibre waste tophase out plastic bags.
Under it, innovative solutions were sought for (i) Alternative to single use Plastic bags and (ii) Alternative to Multi-use Plastic bags, using domestically grownnatural fibres viz; Jute and Cotton.
Need Monthly Current Affairs PDF?
Get everything on your phone with our all in one app for your UPSC Preparation.
Get daily current affairs on you phone
Download monthly current affairs PDF
All India daily mock tests with ranking