Third Positive Indigenisation List: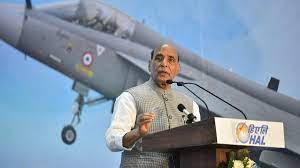 The Ministry of Defence (MoD) has restricted the import of 351 systems and components as a part of third Positive Indigenisation List to boost Indigenisation in Defence Manufacturing.
In June 2021, the MoD had notified the second negative import list, renamed as the 'positive indigenisation list' of 108 items.
The 'First Negative Indigenisation' List comprising 101 items was notified in August 2020.
Procurement:
All the 351 items will now be procured from indigenous sources as per provisions given in Defence Acquisition Procedure (DAP) 2020.
The DAP 2020 includes the following procurement categories: Buy (Indian – Indigenously Designed Developed and Manufactured), Buy (Indian), Buy and Make (Indian), Buy (Global – Manufacture in India) and Buy (Global).
The import of 172 systems and components will be stopped from December 2022, while curbs on another batch of 89 items will come into effect from December 2023. The import of a further 90 items will be stopped from December 2024.
It includes components such as a missile approach warning sensor, shells, propellants, electrical parts, missile containers, a torpedo tube launcher and a gun fire control system.
This Atmanirbhar (self-reliance) initiative will save foreign exchange approximately equivalent to Rs 3,000 cr every year.
It will give a boost to indigenisation with active participation of the public and private sector for fulfilling the twin objectives of achieving self-reliance. (Atmanirbhar Bharat) and promoting defence exports.
Not only does the list recognise the potential of the local defence industry, it will also invigorate impetus to domestic Research & Development by attracting fresh investment into technology and manufacturing capabilities.
It also provides an excellent opportunity for 'start-ups', as Micro, Small, and Medium Enterprises (MSMEs) will get a tremendous boost from this initiative.
Indigenisation of Defence
Indigenisation is the capability of developing and producing any defence equipment within the country for the dual purpose of achieving self reliance and reducing the burden of imports.
Self-reliance in defence manufacturing is one of the key objectives of Department of Defence Production.
Defence Research Development Organisation (DRDO), Defence Public Sector Undertakings (DPSUs) and private organisations are playing a critical role in indigenisation of defence industries.
India is among the world's largest arms importers, and the armed forces are expected to spend about USD 130 billion on defence purchases over the next five years.