Veerangana Lakshmibai: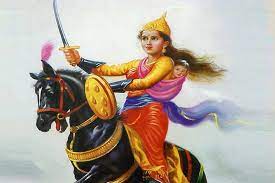 The Jhansi Railway Station in Uttar Pradesh will be known as Veerangana Lakshmibai Railway Station.
The Uttar Pradesh government had earlier sent a proposal about renaming the station to the Union Home Ministry.
The ministry consents to a name change of any station or place after obtaining no-objections from the Union Ministry of Railways, Survey of India, and the Department of Posts.
These organisations confirm that there is no town or village in their records with a name that is similar to the proposed name.
Once the name change is approved following an executive order, the Ministry of Railways will change the station code accordingly.
About Rani Lakshmibai:
Born on November 19, 1828, as Manikarnika Tambe in Varanasi, UP.
Rani was married to the King of Jhansi, Raja Gangadhar Newalkar in 1842.
She had a son Damodar Rao, who died within four months of his birth. Following the death of the infant, her husband adopted a cousin's child Anand Rao, who was renamed Damodar Rao a day prior to the death of the Maharaja.
Lord Dalhousie refused to acknowledge the child and applied the Doctrine of Lapse, and annexed the state. However, the Rani refused to accept Lord Dalhousie's decision.
This led to a fight between the two. The Rani of Jhansi gave a tough fight to the British during the two weeks siege of the city.
She fought bravely against the British and gave a tough fight to Sir Hugh Rose so as to save her empire from annexation.
She died fighting on the battlefield on June 17, 1858.