Tughlaqabad Fort : ASI To Remove Encroachments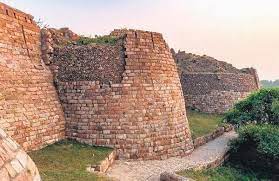 The Delhi HC asked the ASI to remove encroachments around the Tughlaqabad Fort.
The Tughlaqabad Fort in Delhi which is in complete ruins now, was built by Ghiyasudddin Tughlaq.
Ghiyasudddin Tughlaq was the first Sultan of the Tughlaq Dynasty in 1321.
It lends its name to the nearby Tughluqabad residential-commercial area as well as the Tughluqabad Institutional Area.
Ghiyasuddin Tughluq also built the Qutub-Badarpur Road, which connected the new city to the Grand Trunk Road.
The road is now known as Mehrauli-Badarpur Road.
Surroundings are an important biodiversity area within the Northern Aravalli leopard wildlife corridor stretching from Sariska Tiger Reserve to Delhi.