Thirunelly temple : Urge To Conserve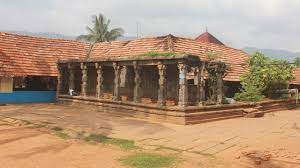 The Indian National Trust for Art and Cultural Heritage (INTACH) has urged the government to conserve the Thirunelly temple.
The Thirunelly Maha Vishnu temple is an iconic temple in Wayanad, Kerala near Brahmagiri hills.
It is also known as "Sahyamala Kshetram" and "Kashi of the South".
Thirunelly Temple embodies classical, traditional Kerala architecture.
A famous pilgrim centre, this temple, which is dedicated to Lord Vishnu.
It is considered an important pilgrimage centre for Hindus.
It is located at the confluence of three rivers – Papanasini, the holy river, which is believed to have the power to wash away sins, Kudamurutti, and Koothappuzha.
The temple has a unique circular structure made of granite stones, which is believed to have been constructed by Lord Brahma himself.
Thirunelli Temple is the only temple in the world where the devotees can perform all the rituals related to one's life, starting from birth to death and life after death.