Udyog Manthan: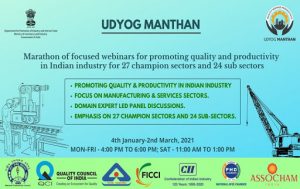 The commerce ministry is organizing the Udyog Manthan. Under the Udyog Manthan, a series of webinars are being conducted.
The Webinar is focusing on about 45 sectors including the pharma sector and electronics sector.
The webinar under the Udyog Manthan is being organized with the focus on quality and productivity in all the major manufacturing sectors and services sectors.
The Udyog Manthan in the upcoming webinar will cover various sectors such as pharma, closed-circuit camera, medical devices, electronics system design & manufacturing.
It will also focus on new & renewable energy, aerospace, robotics, and defense.
It will further focus on the quality in the government processes that will be a guiding light in realizing the vision of Aatma-Nirbhar Bharat.
The webinar was started on January 4, 2021, and in the span of four weeks, 18 webinars on various sectors such as toys, leather, furniture, and drones have been organized.
Such webinar delves deep into the issues related to the quality of products and productivity in a specific sector.
Udyog Manthan:
It is a marathon that is focused on sector-specific webinars. The webinars are focused on promoting Quality and Productivity in Indian Industry.
The webinar was started on January 4, 2021, and it will conclude on March 2, 2021.