Uniform Civil Code (UCC) In Goa: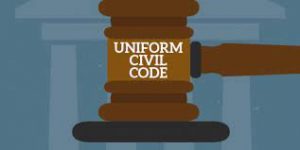 Chief Justice of India S A Bobde recently appreciated the uniform civil code (UCC) in Goa, the only state to have one.
The CJI urged intellectuals to seriously study the Goa UCC.
About Goa's UCC:
Goa's Portuguese Civil Code, 1867 is basically an alien code given by the Portuguese.
Goa's Civil Code has four parts, dealing with civil capacity, acquisition of rights, right to property, and the breach of rights and remedies.
It begins in the name of God and Dom Luis, King of Portugal and Algarves.
The Code has survived by virtue of Section 5(1) of the Goa, Daman and Diu Administration Act, 1962 that permitted its continuance.
Article 44 of the Constitution says that there should be a Uniform Civil Code. According to this article, "The State shall endeavor to secure for the citizens a uniform civil code throughout the territory of India". Since the Directive Principles are only guidelines, it is not mandatory to use them.