Vikram-1 Rocket: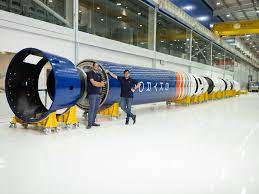 Indian firm Skyroot Aerospace recently unveiled its indigenously-built Vikram-1 rocket.
Planned to be launched in early 2024, Vikram-I will be Skyroot's second rocket, after the successful launch of the Vikram-S rocket on November 18 last year, when the space start-up became the first company to launch a private rocket from the ISRO's launch centre in Sriharikota.
Vikram-1, named after the father of India's space programme, Vikram Sarabhai, is a multi-stage launch vehicle with a capacity to place around 300 kg of payloads in low-earth orbit.
It has been built by Hyderabad-based Skyroot Aerospace, a space startup.
It is an all-carbon-fibre-bodied rocket that can place multiple satellites into orbit.
Being a solid-fuel rocket and using relatively simpler technologies would mean that launching this vehicle would require minimal infrastructure and that the rocket could be assembled and launched within 24 hours from any site.