What Is Fujiwhara Effect?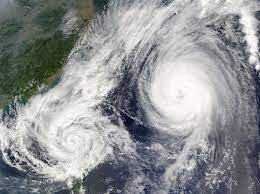 With typhoon Hinnamnor and another tropical storm called Gardo, meteorologists observed a phenomenon called the Fujiwhara Effect.
Typhoon Hinnamnor, known in the Philippines as Super Typhoon Henry, was a very large and powerful tropical cyclone in Pacific Ocean that impacted Japan and South Korea.
The Fujiwhara Effect is any interaction between tropical storms formed around the same time in the same ocean region with their centres or eyes at a distance of less than 1,400 km, with intensity that could vary between a depression (wind speed under 63 km per hour) and a super typhoon (wind speed over 209 km per hour).
The interaction could lead to changes in the track and intensity of either or both storm systems.
In rare cases, the two systems could merge, especially when they are of similar size and intensity, to form a bigger storm.