Assam Earthquake: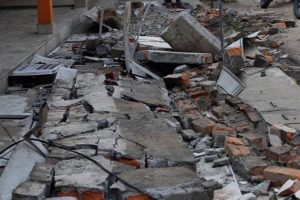 A powerful earthquake measuring 6.4 on the Richter Scale jolted Assam and other parts of Northeast.
According to the National Centre for Seismology (NCS) report, the tremors have been attributed to Kopili Fault zone closer to Himalayan Frontal Thrust (HFT).
NCS is the nodal agency of the Government of India for monitoring earthquake activity in the country. It comes under the Ministry of Earth Sciences.
Himalayan Frontal Thrust (HFT):
HFT, also known as the Main Frontal Thrust (MFT), is a geological fault along the boundary of the Indian and Eurasian tectonic plates.
Kopili Fault Zone:

The Kopili fault zone is a 300 km long and 50 km wide lineament (linear feature) extending from the western part of Manipur up to the tri-junction of Bhutan, Arunachal Pradesh and Assam.
The area is seismically very active falling in the highest Seismic Hazard zone V associated with collisional tectonics where Indian plate subducts beneath the Eurasian Plate.
Subduction is a geological process in which one crustal plate is forced below the edge of another.
Squeezed between the subduction and collision zones of the Himalayan belt and Sumatran belt, the North East is highly prone to earthquake occurrences.

Fault:

A fault is a fracture along which the blocks of crust on either side have moved relative to one another parallel to the fracture.
When an earthquake occurs, the rock on one side of the fault slips with respect to the other.
The fault surface can be vertical, horizontal, or at some angle to the surface of the earth.