Wolf Warrior Diplomacy: China: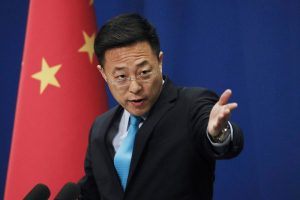 China's assertive new diplomatic approach in the Xi Jinping era has come to be dubbed "wolf warrior diplomacy", marked by a muscular posture in pursuing China's interests.
"Wolf-warrior diplomacy," named after famous Chinese movies, describes offensives by Chinese diplomat to defend China's national interests, often in confrontational ways.
It reinforces a presumed transition of Chinese diplomacy from conservative, passive, and low-key to assertive, proactive, and high-profile.
In last one year the Chinese foreign ministry has taken an increasingly strident tone against the United States, India, Australia, and other countries.
In April last year, Chinese coastguard ship allegedly sank a Vietnamese fishing trawler near the Paracel Islands.
When Vietnam protested, the Chinese foreign ministry responded by saying Vietnam's claims to the area are "illegal."
Then, China announced the naming of 80 islands, reefs, seamounts, shoals, and ridges in the South China Sea, triggering angry protests from other claimants.
China also tried to enter India at various places.