White Spot Disease In Shrimp: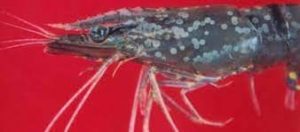 Over the past month, white spot disease has affected over 100 acres of shrimp farming in Nagapattinam district, Tamil Nadu.
White Spot Disease is a highly contagious viral infection that affects crustaceans such as prawns, yabbies and crabs.
When found in high-intensity production areas, such as prawn farms, white spot disease results in the rapid mortality of prawns.
It has the potential to cause a significant financial impact on the farmed prawn industry.
Causative Agent : White spot syndrome virus, a large DNA virus assigned as the only member of the genus Whispovirus (family Nimaviridae).
The virus is known to occur in fresh, brackish and marine water.
The virus does not pose a risk to food safety or human health.
It is primarily spread through the movement of infected animals or contaminated water.
Birds that feed on and move infected animals can spread the disease.
Marine worms have been implicated as potential carriers of the disease.