Windfall Tax: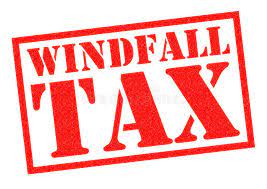 Government has defended the windfall tax (applicable from July 1), as a way to rein in the "phenomenal profits" made by some oil refiners who chose to export fuel to reap the benefits of skyrocketing global prices while affecting domestic supplies.
Windfall tax:
The United States Congressional Research Service (CRS) defines a windfall as an "unearned, unanticipated gain in income through no additional effort or expense".
Domestic producers sell crude oil to domestic refineries at international parity prices, thus making windfall gains.
E. g. ONGC reported bumper profits in the March quarter (when international prices soared to a near 14-year high of $139 per barrel).
The U.N. chief urged all governments to tax these excessive profits "and use the funds to support the most vulnerable people through these difficult times."
Besides India, the United Kingdom, Italy, and Germany have either already imposed a windfall profit tax or are contemplating doing so.