Windfall Tax: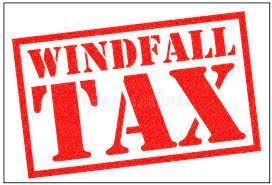 With crude oil prices easing amid fears of a global recession, the Indian government has cut the recently imposed cesses and levies on diesel and aviation turbine fuel (ATF) and removed the cess on exports of petrol.
A windfall tax is a higher tax rate on sudden big profits levied on a particular company or industry.
Reduction in Taxes:Additional excise duties equal to Rs 6 per litre on exports of petrol have been removed.
Duties on diesel exports have been cut to Rs 11 per litre from Rs 13 per litre earlier.
The cess by way of special additional excise duty (or windfall tax) on domestic crude being sold to domestic refineries at international parity prices has been cut to Rs 17,000 per tonne from Rs 23,250 per tonne,
The export duty on Aviation Turbine Fuel has been lowered by Rs 2 to Rs 4 per litre.