Daily Current Affairs for Government Exams:
Today Current Affairs: 27th February 2020 for UPSC IAS exams, State PSC exams, SSC CGL, State SSC, RRB, Railways, Banking Exam & IBPS, etc
Contents:
Union Cabinet approves changes introduced in Surrogacy (Regulation) bill.
G Srinivasan committee:
Foreign portfolio investors (FPIs) from Mauritius:
National Technical Textiles Mission.
ICoSDiTAUS-2020
Higher Education Leadership Development Programme for Administrators.':
Directions to the Delhi police
Ease 3.0
Sri Lanka withdraws from UNHRC Resolution:
Occupancy rights to Scheduled Tribes of Lakshadweep:.
Other important current affairs.
1. Union Cabinet approves changes introduced in Surrogacy (Regulation) bill: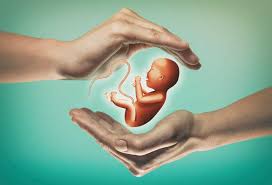 On February 26, 2020, the Union Cabinet approved the changes introduced to the Surrogacy (Regulation) bill, 2019. The changes were introduced by the 23-member select committee of Rajya Sabha.
The changes approved include not only close relatives but "any woman" willing to act as a surrogate mother shall be allowed.
It has also approved deleting the definition of infertility.
Earlier infertility in the bill was defined as the inability to conceive after unprotected intercourse for 5 years.
The committee believed that it was a too long a period for a couple to wait for a child.
The Insurance Cover of a surrogate mother is to be increased from 16 months to 36 months.
The Surrogacy (Regulation) Bill was passed in Lok Sabha in 2019.
The aim of the bill was to prevent commercial surrogacy. It also aims to promote altruistic surrogacy that does not demand monetary compensation apart from medical expenses and insurance.
2.G Srinivasan committee:
The Insurance Regulatory and Development Authority of India (IRDAI) has set up a nine-member committee under Chairmanship of G Srinivasan (former CMD of New India Assurance) to study the feasibility of allowing life insurers to offer indemnity-based health policies.
As of now, only general insurance firms and specialised health insurance companies are allowed to offer indemnity-based health policies.
IRDAI (Health Insurance) Regulations 2016 allow life insurance companies to offer benefit based health insurance products only.
The IRDAI move follows intense lobbying by private life insurance companies for entry into the fast-growing health insurance segment.
In an indemnity-based health insurance plan, the policyholder has reimbursed the cost of medical expenses.
These plans will reimburse the policyholder with the actual amount incurred as expenses during hospitalisation stay up to the sum insured under the policy.
3.Foreign portfolio investors (FPIs) from Mauritius: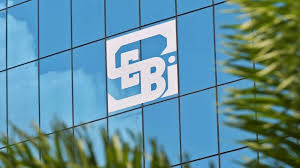 The Securities and Exchange Board of India (SEBI) has clarified that foreign portfolio investors (FPIs) from Mauritius will continue to be eligible for registration as foreign investors in India but subject to increased monitoring.
The regulatory clarification was necessitated after Mauritius was placed in the list of 'jurisdictions under increased monitoring', commonly referred to as the 'Grey List'.
This led to apprehensions that the Mauritius-based FPIs will not be able to trade in the Indian capital market.
This assumes significance since Mauritius accounts for the second-largest chunk of foreign investments, as per data from the National Securities Depository Limited (NSDL).
In January 2020, Mauritius-based FPIs had total assets under custody (AUC) of ₹4.37 lakh crore, second only to that of the U.S. with₹11.63 lakh crore.
4.National Technical Textiles Mission :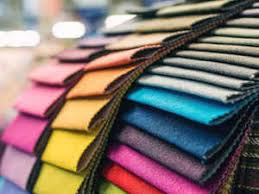 The Cabinet Committee on Economic Affairs (CCEA) has given its approval to set up a National Technical Textiles Mission with a total outlay of Rs 1480 Crore, with a view to positioning the country as a global leader in Technical Textiles.
The Mission would have a four year implementation period from FY 2020-21 to 2023-24.
The Mission will move into the sunset phase after four years period.
A Mission Directorate in the Ministry of Textiles headed by an eminent expert in the related field will be made operational.
The Mission Directorate will not have any permanent employment and there will be no creation of building infrastructure for the Mission purpose.
The Mission will have four components:

Component-l: Promoting both (i) fundamental research at the fibre level and (ii) application-based research in geo-textiles, agro-textiles, medical textiles, mobile textiles and sports textiles and development of bio­degradable technical textiles.
Component-II: Promotion and Market Development.
Component-III: Export promotion of technical textiles and ensuring 10% average growth in exports per year up to 2023-24. An Export Promotion Council for Technical Textiles will be set up for this purpose.
Component-IV: Promoting technical education at higher engineering and technology levels related to technical textiles.
Technical Textiles:
Technical textiles are textiles materials and products manufactured primarily for technical performance and functional properties rather than aesthetic characteristics.
Technical Textiles products are divided into 12 broad categories (Agrotech, Buildtech, Clothtech, Geotech, Hometech, Indutech, Mobiltech, Meditech, Protech, Sportstech, Oekotech, Packtech) depending upon their application areas.
India shares nearly 6% of world market size of 250 Billion USD.
However, the annual average growth of the segment is 12%, as compared to 4% world average growth.
The penetration level of technical textiles is low in India at 5-10%, against 30-70% in advanced countries.
The Mission aims at increasing the size of the technical textiles in the domestic market to $40 billion which would require average growth of at least 10 per cent per annum.
5.ICoSDiTAUS-2020: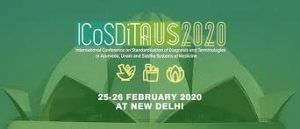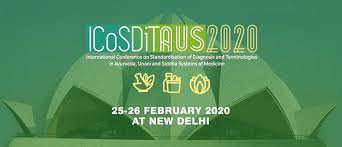 ICoSDiTAUS-2020, the two-day International Conference on Standardisation of Diagnosis and Terminologies in Ayurveda, Unani and Siddha systems of Medicine concluded in New Delhi.
The conference was jointly organized by the Ministry of AYUSH and the WHO during 25- 26 February 2020 at New Delhi
It adopted the "New Delhi Declaration on Collection and Classification of Traditional Medicine (TM) Diagnostic Data".
The New Delhi declaration emphasised the commitment of the countries to Traditional Medicine (TM) as a significant area of health care.
It further sought the opportunity for including traditional systems of medicine like Ayurveda, Unani and Siddha in the International Classification of Diseases (ICD) of WHO which is the standard diagnostic tool for health management across the world.
6.'Higher Education Leadership Development Programme for Administrators.':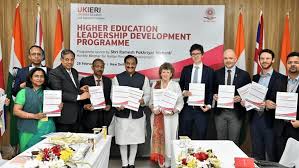 The Union HRD Minister launched the 'Higher Education Leadership Development Programme for Administrators.'
The programme is a joint initiative of UGC and the British Council in India under the auspices of UK India Education and Research Initiative (UKIERI).
Programme objective: To train the senior and middle-level academic administrators in Indian Universities to enable them to bring about systemic changes with renewed approaches, capacity, tools and skill in Universities in India.
This programme includes two workshops conducted by UK trainers, which will train about 300 academic administrators in the level of Registrar and Joint/Deputy/Assistant Registrar to enable them to bring about professional transformation in the higher education institutions.
7.Directions to the Delhi police:
The Delhi High Court has issued a series of directions to the Delhi police, the State government and other agencies for providing all necessary assistance to those affected by the violence in northeast Delhi.
The directions were given on a petition seeking police protection for the safe passage of the injured persons from Al-Hind Hospital to other nearest hospitals.
More than 20 people have been killed in Delhi's worst-ever communal violence since 1984 which resulted in clashes that began over the Citizenship (Amendment) Act on Sunday evening.
The NCT of Delhi, under Article 239 AA, has been given a special status.
It gives powers of law-making and administration to an elected legislature and the council of ministers.
But, puts two subjects public order and police directly under the Union government, however, with exceptions- Two sections of Criminal Procedure Code (CrPC) 129 & 130  give the Executive Magistrate certain powers relating to "unlawful assembly".
Under these two limited powers, the Executive Magistrate, who reports to the Chief Minister, can issue orders relating to public security.
8.Ease 3.0: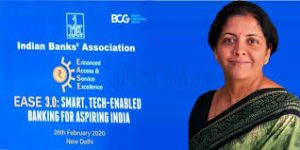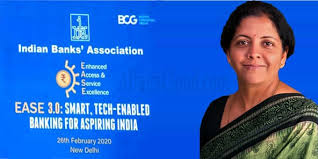 Ease (Enhanced Access and Service Excellence) 3.0 reform agenda aims at providing smart, tech-enabled public sector banking for aspiring India.
New features that customers of public sector banks may experience under EASE 3.0 reforms agenda include facilities like:

Palm Banking for "End-to-end digital delivery of financial service".
Banking on Go" via EASE banking outlets at frequently visited spots like malls, stations, complexes, and campuses.

The Ministry has the idea of establishing paperless and digitally-enabled banking at places where people visit the most.
The government aims to focus on digitalization in the Public Sector Banks (PSBs) among themes that include responsible banking, PSBs as Udyami Mitra, customer responsiveness, credit take-off, and deep financial inclusions.
PSB Reforms EASE Agenda is a common reform agenda for PSBs aimed at institutionalizing clean and smart banking.
It was launched in January 2018, and the subsequent edition of the program EASE 2.0 built on the foundation laid in EASE 1.0 and furthered the progress on reforms.
In EASE 2.0, the government had proposed pushing liquidity in the public sector banks, reconstituting the management committee and possible mergers among the ideal partners in the Indian banking sector.
9. Sri Lanka withdraws from UNHRC Resolution: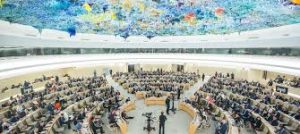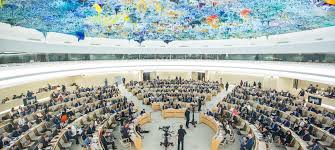 The Sri Lankan Government formally notified the United Nations that it will withdraw from the UNHRC (United Nations Human Rights Council) resolution.
The UNHRC resolution 40/1 was co-sponsored by Sri Lanka and 11 other countries.
The main aim of the resolution is the investigation of wartime violence against Tamil Tiger rebels.
The Tamil Rebels were demanding separate homeland.
They were claiming that they were ethnic Tamil minority and hence are eligible for a separate homeland.
Today, China has taken the port of Hambantota in Sri Lanka for a lease of 99 years.
It is now used by the Chinese as a Naval base.
There are more such upper hands of the Chinese in the internal political matters of Sri Lanka.
With China's greater presence in Sri Lanka and its defence forces, the US was hesitant towards the Sri Lankan Army Chief visit to the US.
10.Occupancy rights to Scheduled Tribes of Lakshadweep: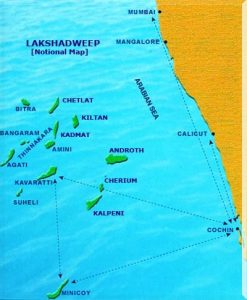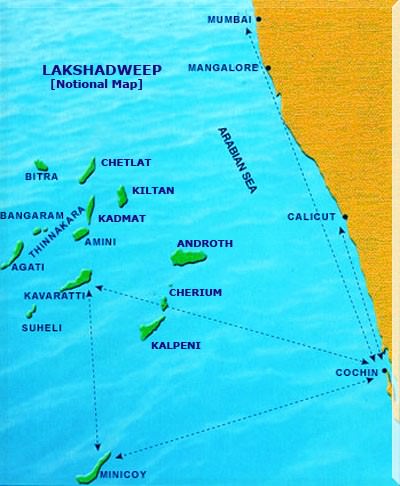 The Union Cabinet approved amendments to provide occupancy rights to Scheduled Tribes of Lakshadweep. The approval was provided to amend the Laccadive, Minicoy and Amindivi Islands Land Revenue and Tenancy Regulation, 1965.
The Scheduled Tribes on the island did not have occupancy rights so far.
The Occupancy right is the right to occupy and use tribal area.
Lakshadweep is an Archipelago with 12 atolls, five submerged banks and three reefs.
There are 17 uninhabited islands in the region.
According to Census 2011, there are 64,429 persons on the island.
Of this 93% of the population are indigenous and the entire indigenous population in the island has been classified as Scheduled Tribes due to their social and Economic Backwardness.
Other important current affairs:
1. The Government of India (GoI) is to organize an Artificial Intelligence (AI) Summit called RAISE 2020. RAISE stands for Responsible AI for Social Empowerment. The Summit is to be held in New Delhi between April 11 and 12, 2020.
The summit will be attended by experts of Artificial Intelligence from all over the world.
It will focus on using AI towards social empowerment, transformation and inclusion and also in other key areas such as agriculture, healthcare, smart mobility and education.
2. The Union Cabinet has approved the exemption of the India Ports Global Ltd (IPGL) from the DPE Guidelines, except reservation and vigilance policies.
IPGL was incorporated under Companies Act 2013, as a Special Purpose Vehicle jointly promoted by Jawaharlal Nehru Port Trust (JNPT) and Deendayal Port Trust (DPT), under Administrative control of Ministry of Shipping, for development and management of Shahid Beheshti Port of Chabahar in Iran.
In 2018, all the shares of JNPT & DPT were purchased by "Sagarmala Development Company Ltd" (SDCL). SDCL is a CPSE and therefore IPGL being subsidiary of SDCL has also become a CPSE. As a result, Guidelines of DPE are technically applicable to IPGL.
Since Chabahar Port is Country's first overseas port project with strategic objectives, there is an urgent need to allow IPGL to continue to function as a Board managed company, without making the guidelines of DPE applicable to it for a period of 5 years, for smooth execution of the project.
3. Scientists have discovered an animal Henneguya Salminicola which does not need oxygen to produce the energy needed for its survival.
It is a tiny, less than 10-celled parasite which lives in the muscles of salmon fish.
It does not have a mitochondrial genome.
Mitochondria is the "powerhouse" of the cell, which captures oxygen to make energy.
Its absence indicates that the parasite does not breathe oxygen.
It is a relative of jellyfish and corals and as it evolved, it gave up breathing and consuming oxygen or became anaerobic to produce energy.
However, it is not yet clear how the parasite generates energy.
It may be drawing it from the surrounding fish cells or it may have a different type of respiration such as oxygen-free breathing, which typically characterises anaerobic non-animal organisms like fungi, amoebas or ciliate lineages.
The discovery bears enormous significance for evolutionary research.
4. The National Green Tribunal (NGT) has directed the constitution of a joint committee to take samples of water from Bengaluru's Ulsoor lake and neighbouring areas.
It has been reported that the water quality has come down due to illegal activities being carried out while discharging untreated sewage, effluents and the dumping of garbage into the water body.
Such activities affect the quality of the water and the ecology and aquatic life, much required for ecological sustenance.
5. The Kerala High Court has banned all forms of agitations by student groups on school and college campuses.
The Kerala High Court has issued this order while hearing a petition filed by 20 educational institutions against campus politics.
The High Court had prohibited campus politics in 2017 also but the decision was not implemented in the State.
The Court has imposed a ban on strikes in schools and colleges that impact the functioning of the campuses.
Educational institutions are meant for academic-related activities and not protests.
However, these institutions can be made a venue for peaceful discussions.
There should not be any form of agitation that affects the academic atmosphere on campuses.
Right to education is a fundamental right (Article 21-A of the Constitution) and nobody has the right to violate that right.
6.RAISE 2020:
It is a maiden summit on Artificial Intelligence to spearhead social empowerment, inclusion and transformation.
The event named RAISE 2020 'Responsible AI for Social Empowerment 2020' will be held in April in New Delhi.
This is India's first Artificial Intelligence summit to be organized by the Government in partnership with the industry and the academia.
The summit will be a global meeting of minds to exchange ideas and charter a course to use AI for social empowerment, inclusion and transformation in key areas like healthcare, agriculture, education and smart mobility amongst other sectors.
7.Market Intelligence and Early Warning System (MIEWS) Web Portal:
The MIEWS Dashboard and Portal is a 'first-of-its-kind' platform for 'real-time monitoring' of the prices of tomato, onion and potato (TOP).
It also generates alerts for intervention under the terms of Operation Greens (OG) scheme.
The portal would disseminate all relevant information related to TOP crops such as prices and arrivals, area, yield and production, imports and exports, crop calendars, crop agronomy, etc. in an easy to use visual format.
The MIEWS system is designed to provide advisories to farmers to avoid cyclical production as well as an early warning in situations of gluts.
8. Renowned Tennis Player Maria Sharapova announced her retirement
Five-time Grand Slam winner Maria Sharapova announced her retirement from tennis at the age of 32.
This Russian tennis player won her first Grand Slam at Wimbledon in 2004 aged 17.
She became world number one in 2005 and won the US Open in 2006.
9. 6th Offshore Patrol Vessel 'VAJRA' launched at Chennai
OPV-6 Vajra, also known as 'Yard 45006 Vajra', is launched was formally launched in the presence of Union Shipping Minister Mansukh Mandaviya and senior government officials to enhance coastal security at Chennai.
The vessel is built by Larsen and Toubro under the Centre's 'Make in India' campaign would be utilized for day and night patrolling.
It is fitted with the state-of-the-art machinery, equipment and navigation systems.
10.World NGO Day Celebrated on 27 February
World NGO (Non-Governmental Organisation) Day is commemorated every year across the world on 27 February to celebrate the NGO's vital activities and contribution to the society.
The World NGO Day also provides an opportunity to honour and remember NGO founders, employees, volunteers, members and supporters.