USTTAD Scheme UPSC Current Affairs Notes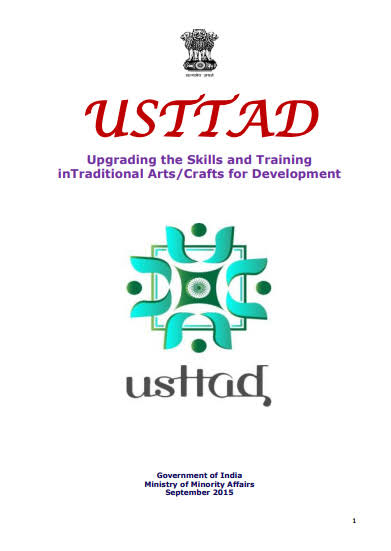 USTTAD stands for Upgrading the Skills and Training in Traditional Arts/Crafts for Development Scheme. The Ministry of Minority Affairs has proposed the Upgrading the Skills and Training in Traditional Arts/Crafts for Development (USTTAD scheme) to promote the heritage of traditional arts and crafts of minorities.
This scheme was mainly developed with the object of training and upgrading skills of artisans belonging to the minority communities, thereby preserving traditional ancestral arts/crafts being practiced by them.
Contents:
Background.
Objective.
Scope.
Components of the scheme.
Eligibility criteria.
Funding.
Implementation.
Release of funds.
Hunar Haat.
Background of USTTAD Scheme:
The scheme has been launched on 14th May 2015.
USTTAD scheme of Ministry of Minority Affairs aims at preserving and promoting the rich heritage of traditional arts & crafts of the Minority communities.
In light of globalization & competitive market, these crafts have gradually lost their employability. It also envisages at boosting skills of craftsmen, weavers, and artisans who are already engaged in traditional ancestral work.
The duration of the training will be for a minimum of two months and a maximum of one year based upon the selected traditional art or craft.
The course would include training on soft skills, IT, Spoken English depending upon the level of trainees.
The objective of USTTAD Scheme:
To build the capacity of craftsmen and artisans through training of the young generation.
To set up standards for identified crafts, crafts and their documentation.
To preserve the heritage of the traditional arts and crafts of minorities.
To generate linkages of traditional skills with the global market.
To increase the employability of existing workers, school dropouts, etc.
To create a better livelihood for marginalized minorities.
To empower minorities to avail opportunities in the global market.
To ensure the dignity of labor.
To showcase traditional arts and craft skills, including culinary skills through the exhibition, which also provide a platform to enlarge business opportunity.
Scope: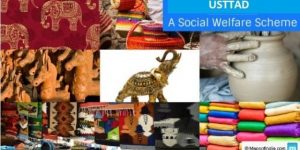 The scheme aims at capacity building and upgrading the skills of traditional craftsmen and artisans.
These trained craftsmen and artisans will train the youth belonging to the minority community in various specific traditional arts and crafts.
Under USTTAD, the Skill Development Programme will be conducted by the Ministry of Minority for all-important traditional arts and crafts being practiced by the minority communities for their development and market linkages and recognition of talent.
Components of the program: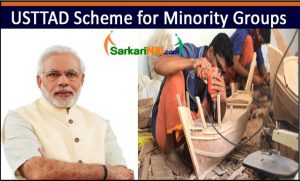 The scheme will have the following program:
Upgradation of skills and training n traditional arts/crafts through the institution.
USTTAD apprentice stipend for research and development.
support to craft museums for curating traditional art. and crafts.
support to minority craftsmen through hunar haats and shilp Utsav for marketing their products through exhibitions.
recognition of talented craftsmen and artisans.
Eligibility criteria:
Eligibility Criteria for Trainee:
The applicant should belong to the minority community.
The applicant age group should be between 14 to 35 years of age.
The applicant should have passed at least a 5th standard.
Eligibility Criteria for PIA( Project Implementing Agencies ):
Any societies registered under the Societies Registration Act and having experience of conducting traditional skill development courses.
Any recognized private institution is conducting such traditional skill development courses for at least three years.
Any association of industries like ASSOCHAM, CII, FICCI, etc. who are willing to run such training centers is eligible to apply for the scheme.
Any institution of Government including training institutes, universities and public sector undertakings having the capacity to conduct such training programs is eligible to apply for the scheme.
Funding:
Rs.10000 per trainee for the non-residential program and Rs.13000 per trainee for the residential program.
Rs.3000/- per trainee will be provided on a monthly basis as Remuneration to each craftsman or artisan.
Implementation of the USTTAD Scheme:
The scheme will be implemented for the promotion of traditional arts and crafts which are being practiced by minority communities notified under the National Commission for Minorities Act.
Release of Funds:
Upon approval of a project, the funds will be released in three installments.
The funds will be issued directly to the implementing agency through direct benefit transfer.
Hunar Haat: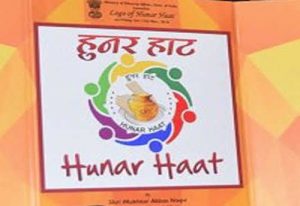 The Union Ministry of Minority Affairs is organizing Hunar Haat under Upgrading the Skills & Training in Traditional Arts/Crafts for the Develofor Development (USTTAD) scheme in different parts of the country.
It has become a successful mission to provide employment and employment opportunities and national as well as international markets for thousands of master artisans, craftsmen, and culinary experts. It has provided platform to master artisans and craftsmen to display their rich heritage and skills.
It is also providing domestic and international marketing.
Hunar Haat's theme of the events to be organized between 2019 and 2020 will be based on Theme: Ek Bharat Shresth Bharat.
The event has proved to effective providing employment opportunities to more than 2 lakh 50 thousand artisans and craftsmen in the last three years. A large number of women artisans from various parts of the country will participate in the event
USTTAD Scheme Website – http://usttad.minorityaffairs.gov.in
Need Monthly Current Affairs PDF?
Get everything on your phone with our all in one app for your UPSC Preparation.
Get daily current affairs on you phone
Download monthly current affairs PDF
All India daily mock tests with ranking