African Swine Fever: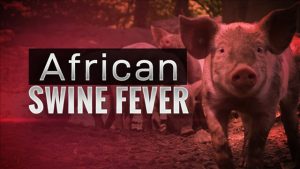 African Swine Fever (ASF) is spreading widely in Vietnam and is hurting the local farming industry, forcing the culling of three times the number of hogs culled last year.
The outbreak has this year spread to 2,275 areas, in 57 out of the country's 63 cities and provinces, the government said, adding that the authorities have so far this year culled 230,000 hogs.
About African Swine Fever (ASF):
ASF is a highly contagious and fatal animal disease that infects domestic and wild pigs, typically resulting in an acute form of hemorrhagic fever.
It was first detected in Africa in the 1920s.
The mortality is close to 100 per cent, and since the fever has no cure, the only way to stop it spreading is by culling the animals.
As of now, there is no approved vaccine, which is also a reason why animals are culled to prevent the spread of infection.