Agro-Climatic Zones: Punjab: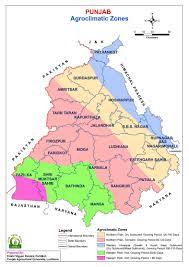 Amid talk of MSP guarantee and Punjab's urgent need to break away from the wheat-paddy cycle, experts feel that the state must follow cropping pattern as per its agro-climatic and soil conditions to protect the environment while increasing farmers' income.
According to Punjab Agriculture University (PAU), Ludhiana, there are six agro-climatic zones in Punjab which include Sub-Mountain Undulating Region, Undulating Plain Region (UPR), Central Plain Region (CPR), Western Plain Region (WPR), Western Region (WR) and Flood Plain Region (FPR).
These regions have rainfall variations from 165 mm to 2000 mm annually and climate from humid to cold-arid to arid and extreme arid.
The variations in soil range from hill soils, tarai, brown hill, alluvial to desert.
The Zones:
In Zone 1 and 2, district like Pathnakot, Ropar, Mohali, Gurdaspur, and Hoshiarpur are included and in Zone 3 districts like Amritsar, Tarn Taran, Kapurthala, Jalandhar, Ludhiana, Fatehgarh Sahib, Patiala and Sangrur are included.
In Zone 4, Ferozepur, Moga, Barnala, and Faridkot are the parts while in Zone 5, Mukatsar, Fazilka, Bathinda and Mansa are included and in Zone 6, the parts of various districts along with Beas, Sutlej, Ravi, Ghaggar rivers are included which are the flood-prone.
In these zones all agro-climatic conditions, rainfall pattern, distribution, soil texture are taken into account to have a suitable cropping pattern, said experts, adding that temperatures and humidity levels are also little bit different from each other in all these zones.