Amar Jawan Jyoti: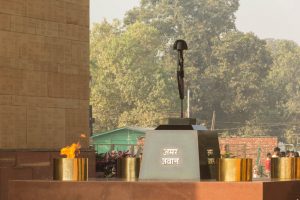 The government has put out the eternal flame of the Amar Jawan Jyoti underneath India Gate and merged it with the one instituted at the National War Memorial in 2019 a few hundred meters away.
The eternal flame at the Amar Jawan Jyoti underneath India Gate in central Delhi was an iconic symbol of the nation's tributes to the soldiers who have died for the country in various wars and conflicts since Independence.
Established in 1972, it was to mark India's victory over Pakistan in the 1971 War, which resulted in the creation of Bangladesh.
The then Prime Minister Indira Gandhi had inaugurated it on Republic Day 1972, after India defeated Pakistan in December 1971.
The key elements of the Amar Jawan Jyoti included a black marble plinth, a cenotaph, which acted as a tomb of the unknown soldier.
The plinth had an inverted L1A1 self-loading rifle with a bayonet, on top of which was a soldier's war helmet.
The installation had four urns on it, with four burners.
On normal days one of the four burners were kept alive, but on important days like the Republic Day, all four burners were lit.
These burners were what is called the eternal flame, and it was never allowed to be extinguished.
For 50 years the eternal flame had been burning underneath India Gate, without being extinguished.
But on Friday, the flame was finally put off, as it was merged with another eternal flame at the National War Memorial.
Since 1972, when it was inaugurated, it used to be kept alive with the help of cylinders of liquified petroleum gas, or LPG.
One cylinder could keep one burner alive for a day and a half.
In 2006 that was changed.
Though a project that cost around Rs 6 lakh the fuel for the flames was changed from LPG to piped natural gas, or PNG.
It is through this piped gas that the flame marking the tribute to Indian soldiers had been kept alive eternally.