Ambubachi Mela ,Assam And 'Sao Joao' Festival ,Goa: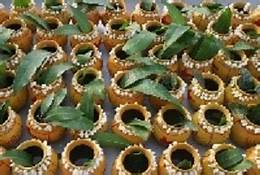 The Ambubachi Mela is an annual Hindu mela held at Kamakhya Temple in Guwahati, Assam. This yearly Mela is celebrated during the monsoon season that happens to fall during the Assamese month Ahaar, around the middle of June when the sun transit to the zodiac of Mithuna, when the Brahmaputra river is in spate.
The festival marks the annual menstruation of the presiding Goddess.
The temple (on the Nilachal Hills) houses the yoni (female genital)symbolised by a rock.
Kamakhya is one of 51 shakti peethasor holy sites for the followers of the Shakti cult
'Sao Joao' festival :
It is the feast of St John the Baptist. Traditionally, people jump into the well but since the wells are fast disappearing, people prefer to celebrate it in swimming pools.
It is celebrated to commemorate the day in the name of St John De Baptista who was believed to have baptised Jesus Christ.
Sao Joao, like any other Goan festival, has that captivating spirit of merriment, colour and tradition.
People dressed in colourful outfits from several villages meet and celebrate the day like a carnival.