Gender Bias And Inclusion In Advertising In India::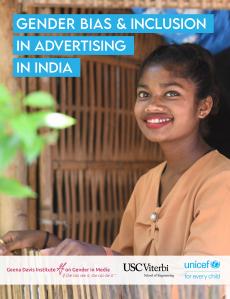 The United Nations Children's Fund (UNICEF) and the Geena Davis Institute on Gender in Media (GDI) released a report titled "Gender Bias and Inclusion In Advertising In India".
The research has shown that while ads in India are superior to global benchmarks insofar as girls and women have parity of representation in terms of screen and speaking time, their portrayal is problematic as they further gender stereotypes.
GDI is a non-profit research organization that researches gender representation in media and advocates for equal representation of women.
Gender and Prominence:
While girls and women have a strong presence in Indian advertising, they are mostly reinforcing traditional gender roles by selling domestic and beauty products to female consumers.
This is problematic because of the intergenerational transfer of norms to children, including a lack of empowering role models for men undertaking domestic work in the home and women working in the paid workforce.
Stereotyping Physical and Mental Capability:
Male characters are more likely to be shown making decisions about their future than female characters (7.3% compared with 4.8%), the latter is twice as likely to be shown making household decisions than male characters (4.9% compared with 2.0%).
Colorism:
Two-thirds of female characters (66.9%) in Indian ads have light or medium-light skin tones—a higher percentage than male characters (52.1%).
This is problematic because this advances the discriminatory notion that light skin tones are more attractive.
Objectification:
Female characters are nine times more likely to be shown as "stunning/very attractive" than male characters (5.9% compared with 0.6%).
Female characters are also invariably thin, but male characters appear with a variety of body sizes in Indian advertising.