Iran's (Tehran's) 2015 Nuclear Accord: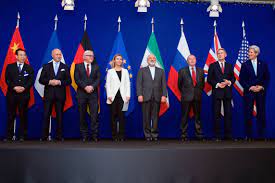 The diplomats from Iran and world powers reconvened in Vienna (Austria) to seek a deal reviving Iran's (Tehran's) 2015 Nuclear Accord.
The 2015 Iran nuclear deal, signed under President Barack Obama, and dismantled in 2018 by President Donald Trump.
The US said it will rejoin the agreement if Iran complies with the terms of the original deal, and if it addresses other issues related to alleged ballistic missile stockpiles and the proxy conflicts that it backs across the region.
The 2015 Iran nuclear deal:
The deal, formally known as Joint Comprehensive Plan of Action (JCPOA).
The JCPOA was the result of prolonged negotiations from 2013 and 2015 between Iran and P5+1 (China, France, Russia, the United Kingdom, the United States + Germany).
Under the deal, Iran agreed to significantly cut its stores of centrifuges, enriched uranium and heavy-water, all key components for nuclear weapons.
Iran also agreed to implement a protocol that would allow inspectors from the International Atomic Energy Agency (IAEA) to access its nuclear sites to ensure Iran would not be able to develop nuclear weapons in secret.
While the West agreed to lift sanctions related to Iran's nuclear proliferation, other sanctions addressing alleged abuses of human rights and Iran's ballistic missile programme remained in place.
The US committed to lifting sanctions on oil exports, but continued to restrict financial transactions, which have deterred international trade with Iran.
Nonetheless, Iran's economy, after suffering years of recessions, currency depreciation, and inflation, stabilized significantly after the deal took effect, and its exports skyrocketed.
Israel, America's closest ally in the Middle East, strongly rejected the deal, and other countries like Iran's great regional rival Saudi Arabia, complained that they were not involved in the negotiations even though Iran's nuclear programme posed security risks for every country in the region.
After Trump abandoned the deal and reinstated banking and oil sanctions, Iran ramped up its nuclear programme in earnest, returning to approximately 97% of its pre-2015 nuclear capabilities.