Kyrgyzstan And Tajikistan: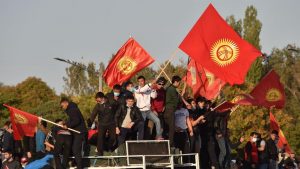 A ceasefire on the border between Kyrgyzstan and Tajikistan appeared to be held after a day of intense fighting between the two countries that have killed about 40 people and wounded about 175.
Kyrgyzstan and Tajikistan belong to the central Asia region. Other countries of the region are Kazakhstan, Turkmenistan, and Uzbekistan.
Both nations have claimed the area around the water supply facility in Kok-Tash, a dispute dating back decades to when they were both parts of the Soviet Union.
The current configuration of the Kyrgyz-Tajik border is the product of Soviet mapmakers drawing the dividing lines for Soviet republics after the Union of Soviet Socialist Republics (USSR) collapsed in late 1991.
The meandering boundary between Tajikistan and Kyrgyzstan is particularly tense as over a third of its 1,000-km length is disputed. Restrictions on access to land and water that communities regard as theirs have often led to deadly clashes in the past.
Russia and European Union (EU) welcomed the ceasefire deal and emphasized the need for a lasting and peaceful solution.