BIMSTEC : Meeting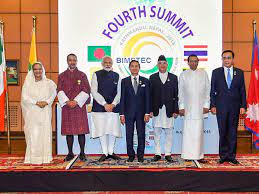 The first-ever Foreign Ministers' meeting of the Bay of Bengal Initiative for Multi-Sectoral Technical and Economic Cooperation (BIMSTEC) recently began in Bangkok
BIMSTEC is a regional organization comprising seven Member States lying in the littoral and adjacent areas of the Bay of Bengal, constituting a contiguous regional unity.
It came into being on 6 June 1997 through the Bangkok Declaration.
It constitutes seven Member States: five deriving from South Asia, including Bangladesh, Bhutan, India, Nepal, Sri Lanka, and two from Southeast Asia, including Myanmar and Thailand.
Permanent Secretariat of BIMSTEC is operational since September 2014 in Dhaka.
There are 14 priority areas 1) Counter terrorism and transnational crime, 2) Transport & Communication, 3)Tourism, 4) Environment and Disaster Management, 5)Trade and Investment, 6) Cultural Cooperation, 7) Energy, 8) Agriculture, 9 )Poverty Alleviation, 10) Technology, 11) Fisheries, 12) Public Health, 13) People-to-People contact 14) Climate Change.
Each country takes lead in specific areas.
India is the Lead Country in four areas, viz Counter-Terrorism and Transnational Crime, Transport & Communication, Tourism, and Environment and Disaster Management.