Rani Velu Nachiyar : Birth Anniversary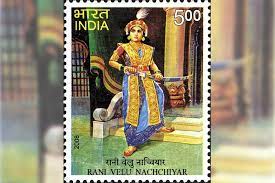 The Prime Minister of India paid tributes to Rani Velu Nachiyar on her birth anniversary.
Rani Velu Nachiyar was born on January 3, 1730, in Ramanathapuram, Tamil Nadu, India.
She was the first queen to have ever actively opposed British rule and fought against colonial rulers many years before the Sepoy Mutiny.
She was trained in war to match weapons usage, martial arts like Valari, Silambam (fighting using the stick), horse riding and archery.
She was a scholar in many languages and she had proficiency in languages like French, English and Urdu.
She married the king of Sivagangai named Muthuvaduganathaperiya Udaiyathevar, with whom she had a daughter.
When her husband was killed by British soldiers, she was drawn into battle.
War against the British: In collaboration with Hyder Ali and Gopala Nayaker, she waged a war against the British and emerged victoriously
She granted powers to the Marudu brothers to administer the country in 1780.