Cannabis Medicine Project: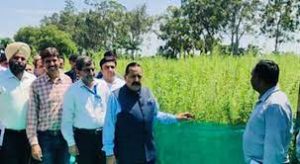 Union Minister of State (Independent Charge) Science & Technology said that Jammu is going to pioneer India's first Cannabis Medicine Project.
Cannabis Research Project' of CSIR-IIIM Jammu is a first of its kind in India initiated under the leadership of Science & Technology Ministry in Private Public Partnership with a Canadian firm, which has a great potential to put substance of abuse for the good of mankind especially for patients suffering from neuropathies, cancer and epilepsy, malignancies.
This project of CSIR-IIIM is also important from the perspective of Atma- Nirbhar Bharat as it will be able to produce export quality drugs meant for different kinds of neuropathies, diabetic pains etc.
This project will explore the therapeutic properties of Cannabis, a plant which is otherwise prohibited and known for abuse.
Cannabis Cultivation:
Cannabis, weed, pot, and marijuana all refer to the same group of plants known for their relaxing and calming effects.
Cannabis contains at least 120 trusted Source active ingredients, or cannabinoids. The most abundant ones are cannabidiol (CBD) and delta-9-tetrahydrocannabinol (THC).
Cannabidiol (CBD) – This is a psychoactive cannabinoid, yet it's non-intoxicating and non-euphoric.
THC- This is the main psychoactive compound in cannabis.