Carbon Dating Of a 'Shivling' Inside Gyanvapi Mosque : Varanasi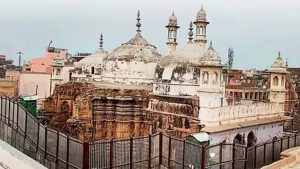 The Allahabad High Court allowed the Archeological Survey of India (ASI) to conduct Carbon Dating of a 'Shivling' inside the Gyanvapi Mosque in Varanasi, Uttar Pradesh.
The petitioners have claimed the object inside the Gyanvapi mosque to be a "Shivling".
The claim was disputed by the Muslim side, which said the object was part of a "fountain".
It set aside an order of the Varanasi District Court that rejected a plea for scientific investigation, including carbon dating, of the structure.
Carbon dating is a widely used method to establish the age of organic materials, things that were once living.
Living things have carbon in them in various forms.
The dating method is based on the fact that Carbon-14 (C-14) is radioactive, and decays at a well-known rate.
C-14 is an isotope of carbon with an atomic mass of 14.
The most abundant isotope of carbon in the atmosphere is C-12.
A very small amount of C-14 is also present.
The ratio of C-12 to C-14 in the atmosphere is almost static and is known.