Centre Of Excellence In Logistics And Supply Chain Management: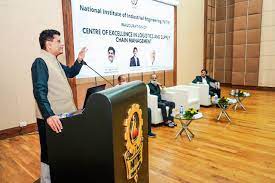 Union Minister for Commerce & Industry inaugurated the 'Centre of Excellence in Logistics and Supply Chain Management' at the National Institute of Industrial Engineering (NITIE), Mumbai.
Managing supply chains is becoming more and more complex owing to the challenges posed by global competitiveness and economic crisis.
In this scenario, the Centre will contribute to cutting edge research, knowledge-building and capacity building in Logistics and Supply Chain Management, through applied research and development activities.
The Centre will act as a driving force to train and launch top quality programs to disseminate advanced knowledge and promote Digitisation, Analytics, and IoT Application and Decision Support Systems through Artificial Intelligence and Machine Learning applications.
The Centre will carry out research projects to find innovative solutions in collaboration with industry and national and international bodies.
The focus will be on Logistics and Supply Chain Management along with sustainability and green supply chains.