China's Monopoly: Rare Earth Metals: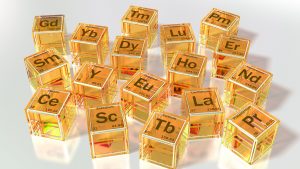 China's dominance in the rare earth metals, key to the future of manufacturing, is posing a major concern for the West.
China has over time acquired global domination of rare earths, even at one point, it produced 90% of the rare earths the world needs.
Today, however, it has come down to 60% and the remaining is produced by other countries, including the Quad (Australia, India, Japan and United States).
Since 2010, when China curbed shipments of Rare Earths to Japan, the US, and Europe, production units have come up in Australia, and the US along with smaller units in Asia, Africa, and Latin America.
Even so, the dominant share of processed Rare Earths lies with China.
India has the world's fifth-largest reserves of rare earth elements, nearly twice as much as Australia, but it imports most of its rare earth needs in finished form from China.
In 2019, the US imported 80% of its rare earth minerals from China while the European Union gets 98% of its supply from China.
Rare Earth Elements:
They are a set of seventeen metallic elements. These include the fifteen lanthanides on the periodic table in addition to scandium and yttrium that show similar physical and chemical properties to the lanthanides.
The 17 Rare Earths are cerium (Ce), dysprosium (Dy), erbium (Er), europium (Eu), gadolinium (Gd), holmium (Ho), lanthanum (La), lutetium (Lu), neodymium (Nd), praseodymium (Pr), promethium (Pm), samarium (Sm), scandium (Sc), terbium (Tb), thulium (Tm), ytterbium (Yb), and yttrium (Y).
These minerals have unique magnetic, luminescent, and electrochemical properties and thus are used in many modern technologies, including consumer electronics, computers and networks, communications, health care, national defense, etc.
Even futuristic technologies need these REEs (For example high-temperature superconductivity, safe storage and transport of hydrogen for a post-hydrocarbon economy, environmental global warming and energy efficiency issues).
They are called 'rare earth' because earlier it was difficult to extract them from their oxides forms technologically.
They occur in many minerals but typically in low concentrations to be refined in an economical manner