PASIPHAE Project: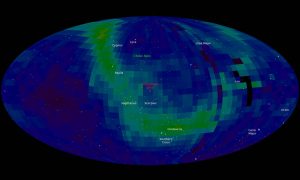 The Wide Area Linear Optical Polarimeter (WALOP), a vital instrument for the PASIPHAE Project, is being developed at Inter-University Centre for Astronomy and Astrophysics (IUCAA), India.
Polar-Areas Stellar-Imaging in Polarisation High-Accuracy Experiment (PASIPHAE) is an international collaborative sky surveying project.
About the PASIPHAE Survey:
It is an opto polarimetric survey aiming to measure the linear polarization from millions of stars.
The survey will use two high-tech optical polarimeters to observe the northern and southern skies, simultaneously.
The survey will be conducted concurrently from the South African Astronomical Observatory in Sutherland, South Africa in the southern hemisphere, and the Skinakas Observatory in Crete, Greece, in the north.
It will focus on capturing starlight polarisation of very faint stars that are so far away that polarisation signals from there have not been systematically studied.
The distances to these stars will be obtained from measurements of the GAIA satellite.
GAIA is on a mission to chart a three-dimensional map of our Galaxy, the Milky Way, in the process revealing the composition, formation and evolution of the Galaxy. It is a European Space Agency astronomical observatory mission.
Scientists from the University of Crete, Greece, Caltech, USA, IUCAA, India, the South African Astronomical Observatory and the University of Oslo, Norway, are involved in this project, steered by the Institute of Astrophysics, Greece.
Wide Area Linear Optical Polarimeter (WALOP):
It was planned in 2013 after the success of the RoboPol experiment survey during 2012-2017.
WALOP and its predecessor RoboPol share the photometry (measurement of the brightness of celestial objects) principle.
But the WALOP will be capable of observing hundreds of stars concurrently present both in the northern and the southern skies as opposed to RoboPol, which has a much smaller field of view in the sky.