Delhi Regional Security Dialogue On Afghanistan: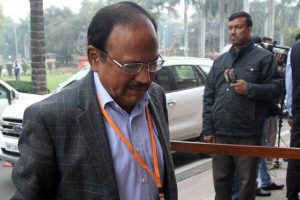 In the coming days, India will be hosting the 'Delhi Regional Security Dialogue on Afghanistan'.
The meeting will be held at the level of National Security Advisors (NSAs) and will be chaired by India's NSA Ajit Doval.
About the Meeting:
Invited Participants: India's top security establishment, the National Security Council Secretariat, has taken the lead in organising the in-person meeting.
Invitations were sent to Afghanistan's neighbours such as Pakistan, Iran, Tajikistan, and Uzbekistan, and other key players including Russia, and China.
After the withdrawal of US forces and the Taliban's takeover of Afghanistan, India is concerned about security in the region.
Objective: In this context, India has taken this initiative to organise a conference of regional stakeholders and important powers on the country's current situation and future outlook.
This meeting could be India's attempt to secure for itself a seat at the table to decide the future course of action on Afghanistan.
The meeting also reflects the need to actively engage with the world to protect India's security interests.
The Central Asian countries, as well as Russia and Iran, have confirmed participation.
The enthusiastic response is a manifestation of the importance attached to India's role in regional efforts to promote peace and security in Afghanistan.
Pakistan's National Security Advisor has held that he would not attend the meeting.
China has also decided to skip a regional security meeting due to scheduling difficulties, but is open to maintaining discussions with India through bilateral channels.
India is of the view that the denial by Pakistan to attend this meeting reflects its mindset of viewing Afghanistan as its protectorate.
India is not ready to directly deal with the new Taliban dispensation in Afghanistan.
India reiterates that Afghanistan should:

Not allow safe havens for terror on its soil.
The administration should be inclusive.
The rights of minorities, women, and children must be protected.
The Afghanistan peace process should be led, owned and controlled by the Afghan people.