Expansion Of PM Ujjwala Yojana: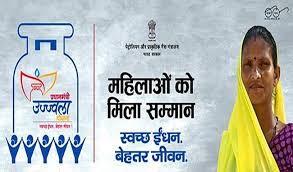 The centre approved the expansion of PM Ujjwala Yojana.
Addressing media after the Union Cabinet meeting, Information and Broadcasting Minister Anurag Singh Thakur said in New Delhi that under it, a total of 75 lakh LPG connections over three years from Financial Year 2023-24 to 2025-26 will be released.
So far 9.60 crore LPG cylinders have been distributed under the Ujjwala scheme and another 75 lakh free LPG connections will be given to women from poor and needful families so that they can avail of the benefits from the scheme.
PM Ujjwala Yojana:-
Launched: May 2016.
Ministry: Ministry of Petroleum and Natural Gas.
Objective is to make clean cooking fuel such as LPG available to the rural and deprived households that were otherwise using traditional cooking fuels such as firewood, coal, cow-dung cakes, etc. Pradhan MantriUjjwalaYojana (PMUY) – Diversion of LPG
It will help achieve the Prime Minister's vision of universal access to LPG.
Salient Features:-
Ujjwala 1.0 had a target to provide deposit-free LPG connections to 5 crore women members of BPL households.
The scheme was expanded in April 2018 to include women beneficiaries from seven more categories (SC/ST, PMAY, AAY, most backward classes, tea garden, forest dwellers, etc.).
EMI facilities were given for stove and refill costs (Interest-free loan).
Ujjwala 2.0:- The Union budget for FY 21-22, announced the provision for an additional one crore LPG connection under the PMUY scheme.
Additional allocation of 1.6 Crore LPG Connections under the PMUY Scheme with a special facility to migrant households.
It will provide a deposit-free LPG connection.
It will also give the first refill and hotplate (stove) free of cost to the beneficiaries.