Sardar Sarovar Dam (SSD) : Massive Flooding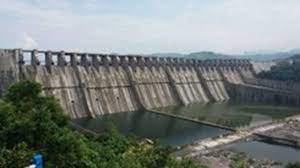 The recent release of massive amounts of water from the Sardar Sarovar Dam (SSD) has caused massive flooding in low-lying areas in the Narmada district.
Sardar Sarovar Dam (SSD) is a concrete gravity dam built on the Narmada River at Kevadia in Gujarat's Narmada district.
The dam was named after Sardar Vallabhbhai Patel.
Having a length of 1.2 km and a depth of 163 m, it is the third-highest concrete dam in India, the first two being Bhakra (226 metres) in Himachal Pradesh and Lakhwar (192 meters) in Uttar Pradesh.
In terms of the volume of concrete involved in gravity dams, this dam will be ranked as the second largest in the world after the Grand Coulee Dam in the USA.
It is a part of the Narmada Valley Project, a large hydraulic engineering project involving the construction of a series of large irrigation and hydroelectric multi-purpose dams on the Narmada River.
The dam has two powerhouses – a canal head powerhouse and a river bed powerhouse with an installed capacity of 250 MW and 1,200 MW, respectively.
The dam forms a vast reservoir known as the "Sardar Sarovar Reservoir" or "Narmada Lake," which spans across several districts in Gujarat.