Gangotri National Park : Transfer Of Land To The Army And Indo-Tibetan Border Police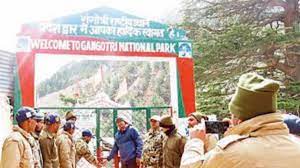 Gangotri National Park (GNP) in Uttarakhand, has decided to transfer approximately 50 hectares of land to the Army and Indo-Tibetan Border Police (ITBP) for the development of new bunkers and border outposts near the Line of Actual Control (LAC).
Gangotri National Park was established in 1989 in Uttarkashi, Uttarakhand.
It is located in the upper catchment of the Bhagirathi River and includes Gaumukh at Gangotri Glacier, the source of the river Ganga.
The park serves as a connecting link between Govind National Park and Kedarnath Wildlife Sanctuary.
The Indo-Tibetan Border Police (ITBP) ,est. 1962; HQ: New Delhi,is a central paramilitary force responsible for border guarding duties along the Sino-India Border, covering a distance of 3,488 km from Karakoram Pass in Ladakh to Jachep La in Arunachal Pradesh.
The ITBP is known for its specialization in mountain operations, with its officers and personnel being trained mountaineers and skiers.
In November 2019, the Ministry of Home Affairs proposed the merger of the Assam Rifles with the ITBP.