Gen Next Democracy Network: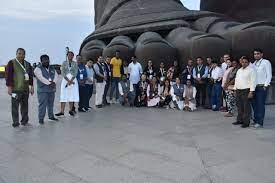 Indian Council for Cultural Relations's (ICCR) ten days programme Gen Next Democracy Network concluded.
Youth from democratic countries come to India under the Gen Next Democracy Network programme.
During the programme, they get acquainted with India's heritage, culture and functioning of Indian democracy.
In the closing ceremony, 27 delegates from six countries- Ghana, Bangladesh, Peru, Nepal, Brunei and Norway shared their experiences of visiting India.
Indian Council for Cultural Relations (ICCR):
The Indian Council for Cultural Relations (ICCR), is an autonomous organisation of the Government of India.
The ICCR Headquarter is situated in New Delhi.
It was founded in 1950 by Maulana Abul Kalam Azad, the first Education Minister of independent India.
It is involved in India's global cultural relations, through cultural exchange with other countries and their people.
The council also operates missions internationally, with established cultural centres in various countries.
It also administers the Jawaharlal Nehru Award for International Understanding, established by the Government of India in 1965, whose last award was in 2009.