Global Methane Pledge: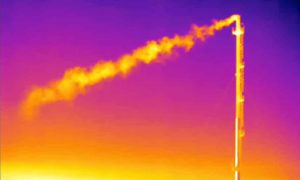 The US President has announced the Global Methane Pledge, which is an US-EU led effort to cut methane emissions by a third by the end of this decade.
The announcement has come ahead of 26th Conference of the Parties (COP26) of United Nations Framework Convention on Climate Change (UNFCCC) in Glasgow, UK.
This will also help in abiding by the targets of the Paris climate deal.
The pact between the US and the EU sets a target of cutting at least 30% from global methane emissions, based on 2020 levels, by 2030.
If adopted around the world, this would reduce global heating by 0.2C by the 2040s, compared with likely temperature rises by then.
The world is now about 1.2C hotter now than in pre-industrial times.
Methane Gas:
Methane is the simplest hydrocarbon, consisting of one carbon atom and four hydrogen atoms (CH4).
It is flammable, and is used as a fuel worldwide.
Methane is a powerful greenhouse gas.
Approximately 40% of methane emitted is from natural sources and about 60% comes from human-influenced sources, including livestock farming, rice agriculture, biomass burning and so forth.
More Global Warming Potential: It is nearly 80-85 times more potent than carbon dioxide in terms of its global warming capacity.
This makes it a critical target for reducing global warming more quickly while simultaneously working to reduce other greenhouse gases.
Promotes Generation of Tropospheric Ozone: Increasing emissions are driving a rise in tropospheric ozone air pollution, which causes more than one million premature deaths annually.