Global Nursing Award 2022: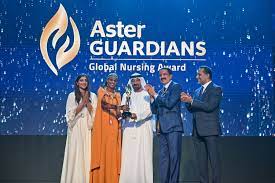 Anna Qabale Duba from Marsabit County, Kenya was conferred the Aster Guardians Global Nursing Award 2022 in an award ceremony that was held at Atlantis, The Palm, Dubai.
From 24,000 nurses 10 were selected as the top 10 finalists from which 1 won this award.
Anna Qabale Duba:
She was her village's first graduate and her family's only educated child. She had understood early that illiteracy was holding people back from knowing about new things and thus she chose education.
She had also won the Miss Tourism Kenya 2013 while studying nursing. She has advocated for education and gender equality in her community.
A school has been built by her in her village under the Qabale Duba Foundation.
This school was built so that in the morning children could study and in the afternoon the adults can study.
Over 100 adults and 150 children are participating in this community literacy program.
The Aster Guardians Global Nursing Award was launched by Aster DM Healthcare with the aim of recognizing the phenomenal contribution that nurses have to humanity.
This award was launched on International Nurses Day 2021 or 12th May 2021.
The winner gets USD 250,000 prize money.