Grants-In-Aid To The Dalai Lama's Central Tibetan Relief Committee: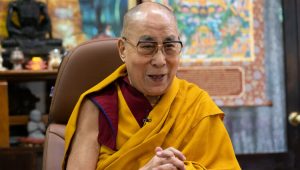 The Union government has extended the scheme to provide ₹40 crore grants-in-aid to the Dalai Lama's Central Tibetan Relief Committee (CTRC) for another five years, up to fiscal year 2025-26.
Highlights of the Scheme:
Launched in 2015.
It is a scheme of providing grant-in-aid of ₹40 crore to CTRC to meet the administrative and social welfare activities expenses of 36 Tibetan settlement offices in different States.
More than one lakh Tibetan refugees are settled in India.
Major concentration of the Tibetan refugees is in Karnataka, Himachal Pradesh, Arunachal Pradesh, Uttarakhand, West Bengal and Jammu and Kashmir.
Tibetan refugees began pouring into India in the wake of the flight of the Dalai Lama from Tibet in 1959.
The government decided to give them asylum as well as assistance towards temporary settlement.
Over 1 lakh Tibetans are settled across India, while the remaining are settled in United States, Australia, Brazil, Canada, Costa Rica, France, Mexico, Mongolia, Germany, United Kingdom, Switzerland and various other countries.
The Central Tibetan Administration exists and functions on the basis of the Constitution of the Tibetan government called 'The Charter of the Tibetans in Exile'.
In 1991, The Constitution Redrafting Committee instituted by the Dalai Lama prepared the Charter for Tibetans in exile.
The Dalai Lama approved it on June 28, 1991.
Only Tibetans living outside the subcontinent will elect their MPs based on their current geographic location. Besides MPs, voters will make their choice of the President as well.
The voting will be held in two rounds.
In the preliminary round, there will be no official candidates, i.e. a voter can choose any person of his choice, which is expected to be one of the several candidates who have started campaigning among the electorate.
Unless a person secures 60 percent of the vote, the two top contenders of the first round will become the official candidates for the second round to be held in April 11.
The Kashag (Cabinet) is Central Tibetan Administration's highest executive office and comprise seven members.
It is headed by the Sikyong (political leader) who is directly elected by the exiled Tibetan population.
Sikyong subsequently nominates his seven Kalons (ministers) and seeks the parliament's approval.
The Kashag's term is for five years.